Additional Staff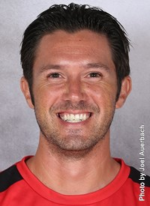 Brian Galvin returns for his second season back with the Buccaneers where he coached in 2012-2013 after spending 2013-2016 as an Assistant Coach with the Florida Atlantic University Men's Soccer team.
From 2010-2012, Galvin served two seasons as Men's Soccer Goalkeeper Coach at Manhattan College. During his second season, the team cut nearly two goals per game off their goals against average.
While coaching at Manhattan College, Galvin held the position of Director of Goalkeeping at Sports Domain Academy (SDA) in Montclair, N.J. During his time at SDA, Galvin was responsible for creating goalkeeping academy curriculum, developing goalkeeping trainers, evaluating goalkeepers, and educating and training staff coaches.
Prior to Manhattan College he worked as Director of Goalkeeping for the Columbus Crew Soccer Academy from 2007-10 while also serving at the Wellington School in Columbus, OH where he was the assistant coach during the 2008 season and varsity head coach for the 2009 season.
Galvin played collegiate soccer at UNLV, graduating in 2006 with a degree in history. He also holds an MBA from Florida Atlantic University.
In addition, Galvin will continue to serve as owner and Director of Coaching of the South Florida Goalkeeping Academy which provides high level goalkeeper training and summer goal keeping camps across South Florida. The academy officially opened in January, 2013.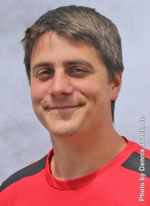 Ali Simmons joined the men's soccer coaching staff in the spring of 2018 as assistant coach.
Simmons comes to the Bucs from the University of Charleston in West Virginia. Simmons helped lead the Golden Eagles (21-1-2) to the NCAA Division II national championship last fall and was a member of the United Soccer Coaches National Staff of the Year.
Previously, he had served as the director of football and men's first-team head coach at Brunel University in London, England, where he had previously been an assistant coach. He was voted coach of the year for 2016-17.
He has also served as an analyst at Football Radar, helping develop a world-leading scouting software. He was a senior lecturer and lead coach at ProFootball Academies. He was the director of coaching at Seashore Youth Soccer Leagues and the youth technical director at the United States Sports Academy in North Carolina.
He holds an NSCAA National Diploma and an NSCAA Goalkeeping Level 1. He is also certified by UEFA with a B License and A Preparation Course.
He is a 2010 graduate of Brunel with a degree in sport sciences (coaching).